Mortgage Loan Options with Marquette
Marquette offers a variety of very competitive mortgage loan options to fit your situation including bridge loans that make the transition from one home to another easy. 
Fixed Rate
A fixed rate mortgage is a great option when interest rates are low and homeowners are interested in "locking-in" a low monthly payment over a longer loan term. A fixed rate mortgage loan from Marquette Savings Bank provides competitive rates and financing options, with terms up to 30 years.
Bridge Loans
A bridge Loan from Marquette can ease your transition from one home to the next, and ease your mind about affording your new home. The equity in your existing home is used as a down payment on your new home enabling you to buy your new home and make updates before moving in.
First-time Home Buyer
If you are a first-time home buyer or have not owned a home in the last three years, and the maximum selling price of the home is $85,000 or less, you may qualify for Marquette's Hometown Mortgage Program.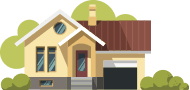 Call a helpful Marquette mortgage loan professional nearest you at (814) 455-4481, or search our Loan Officer listing to find the loan officer of your choice.