Online & Mobile Banking
Marquette offers customers one of the most robust and easy to use online and mobile banking experiences available anywhere. From viewing balances and transferring funds to alerts and the ability to deposit a check anywhere, anytime.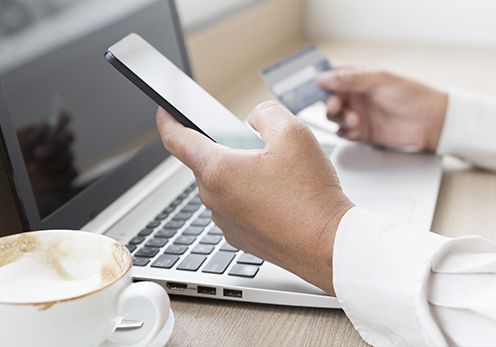 ---
Mobile Receipt is here! Find the new feature in the Mobile Marquette app. 
Learn more by clicking here.
---
Do you use the Mobile Marquette app?
If you're logged into the app, chatting with a Marquette representative is just a tap away with mobile chat! Not a mobile banking user? Learn how to enroll in Mobile Marquette here !
Now you can manage your payee's in Mobile Marquette! You can add, edit and delete payees in the mobile app. You can also view cleared checks anywhere, anytime AND view check images right from your smartphone or tablet in the Mobile Marquette app too! 
Banking Features
Feature
Online
Mobile
 How to Enroll in Mobile Marquette
Bill Pay 

 

  
       Free Service¹
       One Time Payments
       Reoccurring Payments
Chat

View Balances
Mobile Receipt 

Transfer Funds
Check Account Balances 
View Payments
Initiate Stop Payments 

NEW

Personal Financial Management
Zelle®

View All Accounts

View Account History 
Print Account History

View Check Images 

Print Check Images

Request Check Image Copies 

Reorder Checks 

View your eStatements


Export to Financial Software  

Send Messages to Marquette 

Set up Recurring Transfers

Deposit Checks

Locate Branches 

Locate ATMs 

Text Alerts on Balances  

Text Alerts on Transfers 

 

Passcode

Touch ID®²

Apple Pay®   


Samsung Pay®

Android Pay™

CD Renewal and Withdrawal


Update your Address
To simplify getting started with online and mobile banking, be sure to watch our informative videos.
Get a Demonstration
View firsthand the online banking possibilities you can have as a Marquette online banking customer. Learn More.
Enroll Today!
Online Banking. Contact your local Marquette office to enroll in online banking today! Click here to find the branch closest to you.
eStatements. Once you have enrolled in Online Banking, make sure you sign up for eStatements! They are a convenient and secure way to have all your account information available electronically in one place. It's easy to enroll and free! Download our eStatement Enrollment Guide or watch our "How to Enroll in eStatements" video to learn more.
Mobile banking. If you are already enrolled in online banking, adding Mobile Marquette is quick and easy. Simply download the Mobile Marquette app directly to your smartphone or tablet and the app will provide easy, step-by-step instructions that will have you banking by mobile in no time.
You can also enroll in Mobile Marquette when you login to your online banking account. Simply choose "Administration" then "Mobile Marquette." Login to your Online Banking Account now to get started.
View our "How to Enroll in Mobile Marquette Video" to learn more.
Before you start, ensure your phone, tablet or computer is compatible. Open the Device Compatibility Page to compare the capability of your devices and the requirements of Online and Mobile banking.
Just Do It. Enroll in Marquette's online and mobile banking and start to use the functions available to you at your leisure. The more you use it, the more features you will want and the more you will want to bank with your mobile device. Add bill pay and other features as time allows.
¹ Bill pay is a free service as long as a minimum of one (1) bill per month is processed using either Marquette Online Banking or Mobile Bill Pay. A bill pay inactivity fee of $7.50 will be charged every month in which no bills are paid using either online bill pay or Mobile Marquette bill pay. ² TouchID™ is a trademark of Apple, Inc. ³Marquette Savings Bank does not charge a fee for Mobile Marquette, however message and data rates apply. These include fees your wireless carrier may charge you for data usage and text messaging services by your wireless carrier.